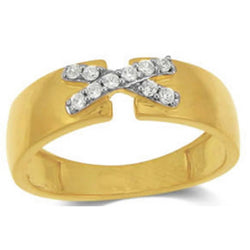 Radiant Elegance: 18K Golden Glow Diamond Band Ring
Introducing our exquisite 18K Solid Yellow Gold Band Ring, a true masterpiece of craftsmanship and elegance. Handmade with love and attention to detail, this stunning piece of jewelry is bound to captivate hearts and turn heads wherever you go.

Crafted from 18KT gold, this ring boasts a solid and substantial feel, making it a luxurious addition to your collection. The rhodium finish adds a touch of sophistication, ensuring that this ring maintains its shine and luster for years to come.

At the center of this remarkable ring, a dazzling 0.12 carat diamond takes center stage. With a color grade of G-H and a cut grade of Very Good, this diamond sparkles with brilliance and radiance, catching the light from every angle. Its mesmerizing beauty is sure to leave you breathless.

Designed with your comfort in mind, this ring is available in a US size 6.75. However, we also offer special sizing upon request, ensuring a perfect fit for everyone. Whether you're treating yourself or looking for a meaningful gift, this ring is a timeless symbol of love and elegance.

As a testament to our commitment to quality, this ring comes with a 1-year limited manufacturer warranty, giving you peace of mind with your purchase. Rest assured, your satisfaction is our top priority.

Don't miss out on the opportunity to own this exquisite piece of jewelry. Order now and experience the allure of our 18K Solid Yellow Gold Band Ring. Elevate your style and make a statement that will be remembered for a lifetime.