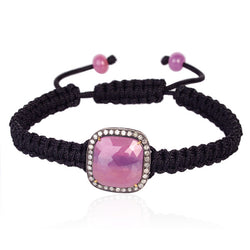 Enchanting Amethyst Symphony Hoop Earrings
Introducing our stunning 0.16ct Studded Amethyst Hoop Earrings, a true masterpiece in 18k White Gold. These exquisite huggies are the perfect jewelry gift for any woman who appreciates elegance and style.

Crafted with precision and attention to detail, these earrings feature a beautiful 0.16ct amethyst gemstone, adding a touch of allure to any outfit. The vibrant purple hue of the amethyst is truly captivating, making these earrings a standout accessory.

Made with GOLD 18KT and SILVER 925, these earrings are not only beautiful but also durable. The gold weight of 0.27 grams and silver weight of 1.81 grams ensure a high-quality piece of jewelry that will last for years to come.

To enhance the brilliance and shine, these earrings are finished with a rhodium coating. This adds a luxurious touch and protects the earrings from tarnishing, ensuring they retain their beauty over time.

The diamond details of these earrings are equally impressive. With a diamond color grade of G-H and a cut grade of Very Good, these diamonds sparkle and shine with every movement. The total diamond weight of 0.37 carats adds a touch of glamour to these already stunning earrings.

But the beauty doesn't stop there. These earrings also feature a gorgeous sapphire gemstone. With a weight of 12.9 carats and a mesmerizing multi-color, the sapphire adds a pop of color and sophistication to these earrings.

Rest assured, these earrings come with a 1-Year Limited Manufacturer Warranty, ensuring your peace of mind and satisfaction with your purchase.

Don't miss out on the opportunity to own these captivating 0.16ct Studded Amethyst Hoop Earrings. Order now and experience the perfect blend of elegance and style!