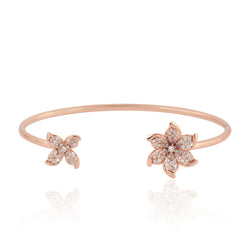 Enchanting Blossoms: 0.46ct Sparkling Diamond Floral Cuff Bracelet
Introducing our stunning 0.46ct Pave Diamond Flower Cuff Bracelet! This exquisite piece of jewelry is crafted in 18k Rose Gold, radiating elegance and sophistication.

Designed to captivate, this bangle features a beautiful flower motif adorned with sparkling pave diamonds. The intricate detailing and meticulous craftsmanship make this bracelet a true work of art.

With a diamond color of G-H and clarity of I3, these diamonds shimmer with a mesmerizing brilliance. The very good cut grade ensures that each diamond is expertly faceted to maximize its sparkle.

Measuring 54X40X15 MM, this bracelet is the perfect size to make a statement without overpowering your wrist. The 18k Rose Gold metal adds a touch of warmth and luxury to this already stunning piece.

Not only does this bracelet exude beauty, but it also comes with a 1-year limited manufacturer warranty, providing you with peace of mind and assurance of its quality.

Whether you're treating yourself or looking for a special gift, this Pave Diamond Flower Cuff Bracelet is sure to impress. Order now and experience the allure of fine jewelry that will leave you feeling radiant and glamorous.