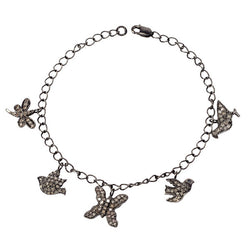 Radiant Wings Diamond Charm Bracelet: 0.79ct Pave Diamond 925 Sterling Silver Jewelry
Introducing our exquisite 0.79ct Pave Diamond Bird Charm Bracelet, a stunning piece of jewelry that will captivate your heart and elevate your style. Made with love and crafted to perfection, this bracelet is a true testament to elegance and grace.

Meticulously crafted from 925 Sterling Silver, this bracelet boasts a delicate bird charm adorned with dazzling pave diamonds. The silver weight of 4.442 grams ensures a sturdy and comfortable fit, while the rhodium finish adds a touch of lustrous brilliance.

The diamonds featured in this bracelet are of exceptional quality, with a color grade of G-H and a cut grade of Very Good. With a total diamond weight of 0.79 carats, these sparkling gems will catch the light from every angle, creating a mesmerizing display of beauty.

Measuring 187mm in size, this bracelet is designed to fit most wrists with ease. Its adjustable chain allows for a customized fit, ensuring maximum comfort throughout the day. Plus, with a 1-Year Limited Manufacturer Warranty, you can enjoy peace of mind knowing that your purchase is protected.

Whether you're looking to treat yourself or surprise a loved one, this diamond bird charm bracelet is the perfect choice. Its timeless design and exquisite craftsmanship make it a versatile accessory that can be worn for any occasion, from casual outings to elegant soirées.

Elevate your style and make a statement with our 0.79ct Pave Diamond Bird Charm Bracelet. Order now and experience the allure of fine jewelry that will leave you feeling radiant and confident.