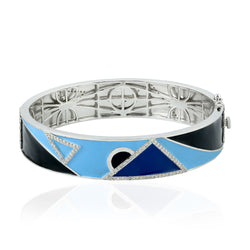 Radiant Brilliance: 1.13ct Diamond Bangle in Sterling Silver and 18k Gold
Introducing our exquisite 1.13ct Diamond Bangle, a true masterpiece crafted with precision and elegance. This stunning piece of jewelry is meticulously designed to captivate hearts and elevate your style to new heights.

Made with 925 Sterling Silver and adorned with 18k Gold, this bangle exudes timeless beauty and sophistication. The combination of these precious metals creates a harmonious blend that will effortlessly complement any outfit, from casual to formal.

Featuring a dazzling array of diamonds, this bangle is a true symbol of luxury. The diamonds boast a mesmerizing G-H color, radiating a brilliant sparkle that will catch the light from every angle. With a clarity of I2/I3 and a cut grade of Very Good, these diamonds are carefully selected to ensure maximum brilliance and fire.

With a total diamond weight of 1.13 carats, this bangle is a true statement piece that will leave a lasting impression. Each diamond is meticulously set, showcasing the exceptional craftsmanship that goes into creating this masterpiece.

Measuring at 58X58X13, this bangle is designed to fit comfortably around your wrist, allowing for effortless wear throughout the day. The rhodium finish adds an extra layer of protection, ensuring that your bangle maintains its lustrous shine for years to come.

We are confident in the quality and craftsmanship of our 1.13ct Diamond Bangle, which is why we offer a 1-Year Limited Manufacturer Warranty. This warranty covers any manufacturing defects, giving you peace of mind with your purchase.

Elevate your style and make a statement with our 1.13ct Diamond Bangle. Order now and experience the unparalleled beauty and elegance that this exquisite piece of jewelry brings.