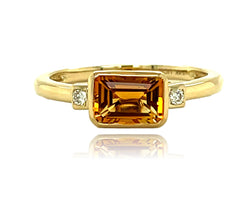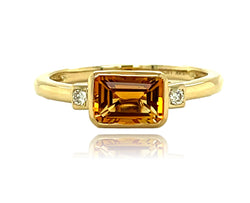 Radiant Sunburst Citrine and Diamond Octagon Ring
Introducing our stunning 14KY Citrine and Diamond Octagon Ring, a true masterpiece that exudes elegance and sophistication. Crafted with meticulous attention to detail, this exquisite piece is bound to captivate hearts and turn heads wherever you go.

The focal point of this ring is a mesmerizing citrine gemstone, radiating a warm and vibrant yellow hue. With a carat weight of 0.93, this gemstone is truly a sight to behold. Its octagon shape adds a unique touch, showcasing its beauty from every angle.

Surrounding the citrine are two brilliant round diamonds, totaling 0.06 carats. These diamonds add a touch of sparkle and sophistication to the ring, complementing the citrine perfectly. With a SI clarity grade, the diamonds are guaranteed to catch the light and create a dazzling display.

Crafted in 14KY gold, this ring not only boasts stunning gemstones but also showcases the finest craftsmanship. The warm yellow gold enhances the beauty of the citrine and diamonds, creating a harmonious and luxurious look.

With a stone clarity grade of AAA, this ring guarantees exceptional quality and brilliance. Each facet of the citrine is expertly cut to maximize its radiance, ensuring that it catches the light with every movement.

Perfect for any occasion, this 14KY Citrine and Diamond Octagon Ring is a true statement piece that will elevate any outfit. Whether you're attending a glamorous event or simply want to add a touch of elegance to your everyday style, this ring is the perfect choice.

Please note that this item is only available for delivery within the United States. Your order will be shipped on the next business day, ensuring that you receive your stunning ring as soon as possible.

Indulge in the beauty of this extraordinary ring and let it become a cherished part of your jewelry collection. Don't miss out on the opportunity to own this exquisite piece. Order now and experience the allure of the 14KY Citrine and Diamond Octagon Ring for yourself.