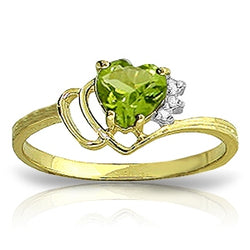 0.97 Carat 14K Solid Yellow Gold Ring Natural Diamond Peridot
This item will be shipped on next business day!
Allow your hand to light up with this 14K solid gold ring with natural diamonds and Peridot. Your friends will envy you with this beautiful stone that sits royally upon your finger. The diamonds literally light up in the sunlight and create sparkles all around. This would make a lovely gift for a birthday, mother's day or even as a promise to that special lady in your life. These natural diamonds and Peridot are stunning and will put a smile on any lady's face. You might just receive a few tears of happiness, a hug or even a kiss after giving this gift to someone special.