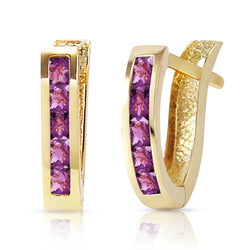 0.85 Carat 14K Solid Yellow Gold Oval Huggie Earrings Purple Amethyst
This item will be shipped on next business day!
Adding a little bit of glam to any ensemble is easy with these 14k solid gold oval huggie earrings with amethyst stones. The classic huggie hoop style is trendy without being over the top, making them a great addition to any wardrobe. These earrings, boasting .85 carats of natural amethyst stones, can add a splash of color and a dash of style to any outfit while dangling elegantly from the earlobes. As with natural stones that are not lab-enhanced, inclusions may occur in the stones. This does not take away from the beauty and sparkle of the gems and is normal for gems that are natural.