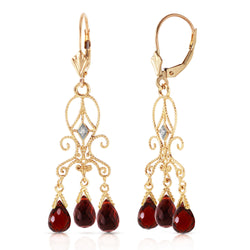 6.31 Carat 14K Solid Yellow Gold Sensation Garnet Earrings
This item will be shipped on next business day!
Would you like to be the bell of the ball? These 14k sold golid chandelier diamond earrings with garnets have class and appeal that will look ravishing with your favorite evening gown. You can wear these to look beautiful and feel like the princess at the ball. The diamonds sparkle with pure delight and will light up your wardrobe as you dance across the dance floor. Not only are these solid gold earrings appropriate for a night at the ball, but they can be worn for a special date night too. These earrings also make a perfect gift to give to someone special-such as your mother, a daughter, sister or even that special love in your life.