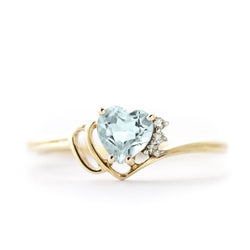 0.97 Carat 14K Solid Yellow Gold Ring Natural Diamond Aquamarine
This item will be shipped on next business day!
Aquamarine is one of the most unique semiprecious stones that is known and loved for its sparkle and beautiful coloring. This 14k solid gold ring with natural diamonds and aquamarine highlights the beauty of this stone wonderfully. The unique solid gold band makes this ring different from others without detracting from the beauty of the natural gemstones. One heart shaped aquamarine stone is the focus of the ring, weighing in at a hefty .95 carats. Three round cut natural diamonds are set within the band to make the ring more special, as well as enhance the elegance and beauty of the natural aquamarine. This ring is perfect for any jewelry lover, as well as for those with a birthday in the month of March.