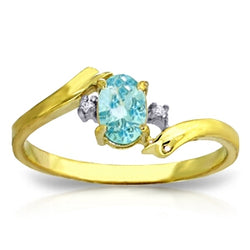 Elegant Harmony: 14K Solid Yellow Gold Ring with Natural Diamond Blue Topaz
$1,633
Add a touch of elegance to your jewelry collection with our 14K Solid Yellow Gold Ring featuring a stunning natural blue topaz stone. Known as the birthstone for December, blue topaz holds a special significance that transcends its birth month. Its light blue hue is simply captivating, making it a favorite among gemstone enthusiasts.

Crafted with meticulous attention to detail, this ring showcases a beautiful oval-shaped blue topaz stone weighing 0.45 carats. The solid gold band gracefully embraces the stone, creating a harmonious blend of sophistication and charm. To enhance its allure, two round-cut diamonds are strategically placed, adding a touch of sparkle and accentuating the brilliance of the center stone.

Designed with simplicity in mind, this ring effortlessly complements any outfit and suits every occasion. Its timeless appeal makes it a perfect choice for women of all ages. Whether you're dressing up for a special event or adding a touch of elegance to your everyday style, this 14K Solid Yellow Gold Ring is sure to make a statement.

Indulge yourself or surprise a loved one with this exquisite piece of fine jewelry. With its combination of natural beauty, high-quality materials, and impeccable craftsmanship, this ring is a true testament to your refined taste. Order now and experience the allure of blue topaz for yourself.