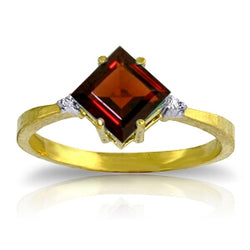 1.77 Carat 14K Solid Yellow Gold Immerse Yourself Garnet Diamond Ring
This item will be shipped on next business day!
You can't go wrong with the rich wine color of Garnets. This opulent 14k solid gold ring features a beautiful square shaped 1.75 carat semiprecious Garnet as a centerpiece. This elegant, soulful stone is flanked on either side by beautiful diamonds for added detail. These shimmery natural diamonds are rated SI-2 for clarity, which means that they may contain slight inclusions, but this should not detract from their natural beauty. Rating a K-M on the color grading scale, these precious stones have a gorgeous faintly yellow cast to their coloration. This solid gold ring has an overall width of 8.9mm and an overall height of 23.6mm. This is a showy ring that has a glamorous appeal.