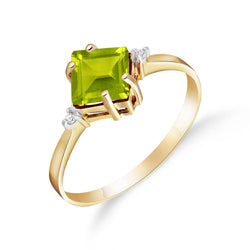 1.77 Carat 14K Solid Yellow Gold Stirrings Peridot Diamond Ring
This item will be shipped on next business day!
We know you already love Peridot. But you'll be beside yourself when you see this ring, which features the beauty of green Peridot flanked by the timeless shimmer of diamonds. This 14k solid gold ring with diamonds & Peridot gemstones is just as fresh and pretty as a ring could possibly be. This gold ring features a 1.75 carat square shaped stone of semiprecious Peridot. On either side of this focal stone is a shimmery diamond. These SI-1 rated diamonds may have slight inclusions, but this only adds to their unique character and gives this ring real dimension. These faintly yellow stones are beautiful when set against the Peridot and the gold setting. This ring is a must have.