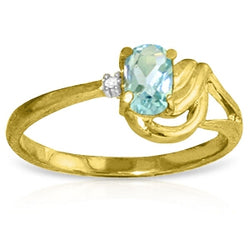 0.46 Carat 14K Solid Yellow Gold Lament Over Love Aquamarine Diamond Ring
This item will be shipped on next business day!
If you love things that are graceful and feminine, then you are sure to get excited about this. This 14k solid gold ring with Diamond and Aquamarine is sure to ignite your imagination. This design features a fanciful swirl of gold that almost resembles an undulating wave. This "wave" contacts a shimmery, faceted, round cut 0.45 carat Aquamarine stone. This light blue stone is placed next to a single round-cut diamond that weighs in at 0.01 carats. This diamond may have slight inclusions, but they in no way detract from the appeal of this precious stone. This stone is rated K-M, which means that is has a faintly yellow cast that looks beautiful against the shimmer of the Aquamarine.