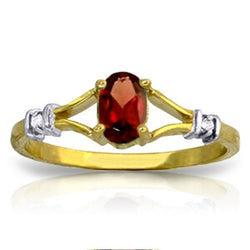 Radiant Aura: 0.46 Carat 14K Solid Yellow Gold Garnet Diamond Ring
Enhance your style and embrace the vibrant allure of gemstone rings with our Revitalize Your Spirit Garnet Diamond Ring. Crafted with utmost precision, this exquisite piece showcases a stunning .46 carat brilliant oval garnet, radiating its rich and captivating color.

Meticulously set on a solid 14K yellow gold band, this ring exudes elegance and sophistication. The warm glow of the gold beautifully complements the deep hue of the garnet, creating a harmonious blend of colors that is simply mesmerizing.

To further enhance its allure, two round natural garnets gracefully accentuate the centerpiece, adding a touch of sparkle and charm. The delicate diamonds delicately dance alongside the garnets, creating a captivating symphony of brilliance.

Whether you're dressing up for a special occasion or simply adding a pop of color to your everyday ensemble, this ring effortlessly exudes understated beauty. Its timeless design makes it a versatile piece that can be worn anytime, anywhere.

Not only is this ring a stunning addition to your own jewelry collection, but it also makes for a thoughtful and meaningful gift. Perfect for loved ones born in January, the garnet is their birthstone, symbolizing vitality and renewed energy.

Indulge in the allure of gemstones and adorn yourself with our Revitalize Your Spirit Garnet Diamond Ring. Elevate your style, embrace your spirit, and let the vibrant beauty of this ring captivate all those who lay eyes upon it.