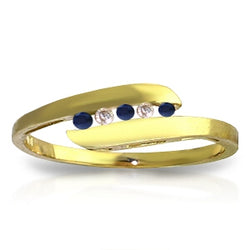 0.25 Carat 14K Solid Yellow Gold Ring Channel Set Diamond Sapphire
This item will be shipped on next business day!
This 14k solid gold ring with channel set diamonds and sapphires is a unique and beautiful ring that combines the beauty of diamonds with beautiful natural colored gemstones. The deep blue colors of the three round cut sapphire gemstones coordinate beautifully with the two round natural diamonds. The channel setting makes this ring very unique, with each gem lying unobstructed next to each other. The simple solid gold band adds even more charm to this stunning piece. As with all natural stones, inclusions may be seen. These inclusions do not affect the shine and luster of the piece and make each ring more unique.