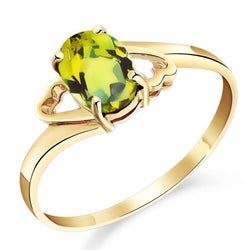 0.75 Carat 14K Solid Yellow Gold Adore Peridot Ring
This item will be shipped on next business day!
Those who love birthstone jewelry or anyone who appreciates simplicity and sparkle in a ring will instantly love this 14k solid gold ring with natural peridot. The unique solid gold band is delicate enough to not be overwhelming, but adds a little something extra to this stunning ring. The highlight of this beauty is the oval shaped natural peridot, which has the bright color and sparkle that peridot lovers would expect from such a ring. Weighing in at three quarters of a carat, the stone is large enough to draw attention and reflect the light beautifully without overwhelming the finger it is worn on.