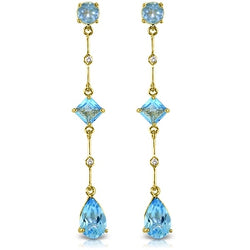 6.06 Carat 14K Solid Yellow Gold Chandelier Earrings Diamond Blue Topaz
This item will be shipped on next business day!
Delicate chandelier earrings add a touch of class to anything that they are worn with. with these 14k gold chandelier earrings with diamonds and blue topaz, simple elegance is easy for any woman to pull off. At over two inches long, these earrings are long enough to be noticed every time they are worn. The solid gold chains Hold a total of ten blue topaz gems for the ultimate in sparkle and shine. Over six carats of gorgeous blue topaz stones make these earrings truly dazzling when suspended from the earlobes. The simple design makes them a great choice for any woman who appreciates fine jewelry.