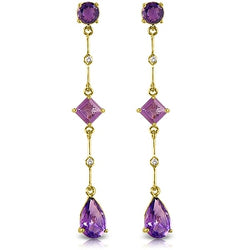 6.06 Carat 14K Solid Yellow Gold Chandelier Earrings Diamond Amethyst
This item will be shipped on next business day!
What better way to link beautiful gemstones than with 14k gold and diamonds? With these 14k solid gold chandelier earrings with diamonds and amethysts, high quality gold and gems, as well as different shapes, add serious drama to this current style. Four round cut natural diamonds are used to link round, pear, and square cut purple amethysts on these amazing earrings, which measure in at over two inches long so that they will always be noticed. Six carats of amethyst make these a superb choice for those who love over the top pieces that exude luxury and style.