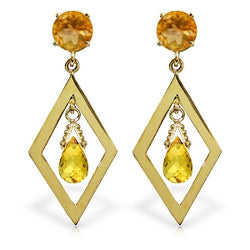 2.4 Carat 14K Solid Yellow Gold Euphoria Citrine Earrings
This item will be shipped on next business day!
These 14k gold chandelier earrings with citrine have a funky and unique design that helps add fun and excitement to any outfit that they are paired with. Beautiful round citrine stones that are one full carat sit beautifully at the earlobes. Beautiful gemometric diamond shapes crafted of high quality 14k gold dangle freely from the studs. An additional 1.40 carats of blazing citrine are set within each diamond shape, giving these earrings a look unlike any other. These earrings are perfect for those who love jewelry with fabulous style.