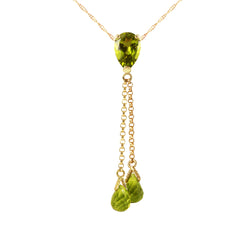 3.75 Carat 14K Solid Yellow Gold Necklace Peridot
This item will be shipped on next business day!
The beautiful green peridot stone is highlighted on this 14k solid gold necklace with peridot. A delicate 18 inch rope chain made of solid gold is used to support one pear shaped green peridot gem that weighs a total of 1.75carats. The glitz doesn't end there, as tiny chains suspend additional gemstones, two unique briolette shaped peridot to add an additional two full carats of the dramatic green that peridot is known and loved for. This necklace is available in yellow gold, white gold, or rose gold to suit your tastes.