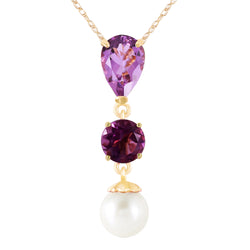 5.25 Carat 14K Solid Yellow Gold Necklace Purple Amethyst Pearl
This item will be shipped on next business day!
Necklaces are a fun way to dress up any outfit, and with the beauty of gold, amethyst, and natural pearls, this piece can enhance any look. On this 14k solid gold necklace with purple amethyst and pearl, the bright color of amethyst is only made brighter with the pure white of the dangling 2.5 carat pearl. 2.75 carats of stunning purple amethyst are suspended from an 18 inch long rope chain, allowing it to fall naturally when it is worn. This piece is an elegant piece that can accessorize any ensemble beautifully.