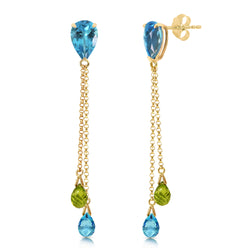 7.5 Carat 14K Solid Yellow Gold Chandelier Earrings Blue Topaz Peridot
This item will be shipped on next business day!
Blue topaz and peridot are two of the most unique and brightly colored gemstones that are available. When combined, they create a dazzling rainbow of sparkling beauty. These 14k gold chandelier earrings with blue topaz and peridot pair these two gems beautifully to make a fashionable statement. Two pear shaped blue topaz stones totaling three and a half carats suspend delicate solid gold chains that hold two briolette shaped blue topaz stones and two briolette shaped peridot stones. Seven and a half total carats of gemstones add plenty of sparkle to a pair of earrings that can add a bit of fun to every outfit.