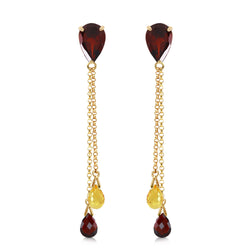 7.5 Carat 14K Solid Yellow Gold Chandelier Earrings Garnet Citrine
This item will be shipped on next business day!
If you love long dangles, then these 14k Solid Gold Chandelier Earrings are just right for you. Each earring features a large 3.50 carat pear-shaped Garnet. Suspended from from this semiprecious beauty is two lengths of chain, one that ends in a 2.0 carat Garnet, and the other that ends in a shimmery, 2.0 carat Citrine. The overall length of these is 51.6mm, which means that they will definitely get noticed. These blingy dangles will give any outfit a touch of va-va-voom!