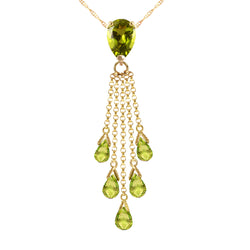 7.5 Carat 14K Solid Yellow Gold Necklace Briolette Peridot
This item will be shipped on next business day!
Any lady can own a beautiful and luxurious necklace without spending a lot of green. This is shown with this fabulous 14k solid gold necklace with briolette peridot. An 18 inch solid gold rope chain holds one pear shaped peridot that measures in at 1.50 carats. Dainty gold chains add even more length and even more gemstones for more sparkle. The five briolette shaped peridot stones add another amazing six carats to this fantastic neckace, making it a stylish choice for any occasion.