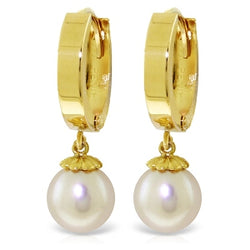 4 Carat 14K Solid Yellow Gold Hoop Earrings Natural Pearl
This item will be shipped on next business day!
Pearls are one of the most classic gemstones that goes with anything and adds a touch of elegance to anything that is worn. These 14k solid gold hoop earrings with natural pearls combines two traditional styles, pearls and classic hoop earrings, to make an elegant set that is perfect for any woman. Each beautiful gold hoop contains a two carat natural pearl for a total of four carats. These earrings are perfect for work, date night, or anytime a woman wishes to add some glamor to her wardrobe.