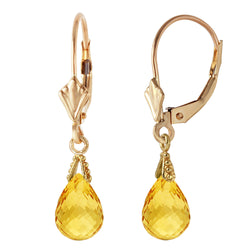 2.5 Carat 14K Solid Yellow Gold Leverback Earrings Briolette Citrine
This item will be shipped on next business day!
These 14 karat solid gold leverback earrings with briolette citrines are luxurious. The gold and the citrine stone work in perfect harmony. The piece flows from the gold to the citrine seamlessly and effortlessly. The earrings have a maritime theme that makes them true treasures; there is a small seashell detail and small gold beads, that resemble pearls. The true gems are the crowning citrine gemstones. The citrine stones are briolette shaped for a stunning elongated pear shape. This is the perfect day time accessory for the spring and summer seasons. The citrine gemstones will beautifully reflect the sun. Women born in November are sure to admire these dazzling gold earrings with briolette citrines.