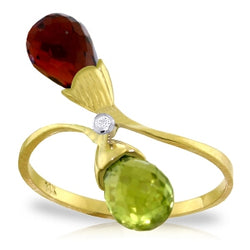 2.52 Carat 14K Solid Yellow Gold Ring Diamond Briolette Garnet, Citrine
This item will be shipped on next business day!
Everyone will be talking about this truly unique and stunning ring. The design of this 14k gold ring with diamond and briolette garnet and citrine stones is simply unlike any other. The 1.25 carat garnet perfectly coordinates with the 1.25 carat briolette citrine stone on the opposite side. One round cut diamond is located in the center to separate the two stones while adding even more sparkle. This ring is flawlessly designed to make it the center of attention no matter where it is worn.