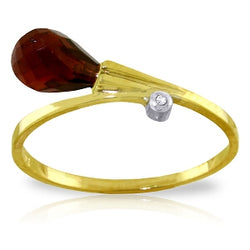 1.51 Carat 14K Solid Yellow Gold Ring Diamond Briolette Garnet
This item will be shipped on next business day!
This beautiful 14k gold ring with diamond and briolette garnet is a unique and standout piece that has an amazing design to make it unlike any other ring. The dainty 14k gold band is used to show off the amazing style of this ring. One 1.5 carat briolette shaped natural garnet stands out on this band for its size and captivating color. A genuine diamond is also set in the band to accentuate the beauty of the garnet while creating more sparkle. This piece is truly perfect for those who love jewelry with a different type of look.