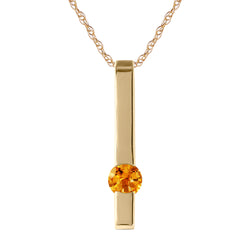 0.25 Carat 14K Solid Yellow Gold Necklace Naturalcitrine
This item will be shipped on next business day!
This chic and modern necklace is made with a solid-gold rectangular bar and natural citrine. Look sophisticated in your choice of yellow gold, white gold or rose gold metal. This necklace is simple and gorgeous enough to wear with any outfit, any time of day and for any occasion. The precious citrine stone is carefully embedded into the rectangular bar, giving it a very unconventional but pleasing appearance. You can expect to get plenty of questions about your unique jewelry when wearing this out. The necklace comes with an 18 inch long chain in the metal of your choice, and upgrades can be made.