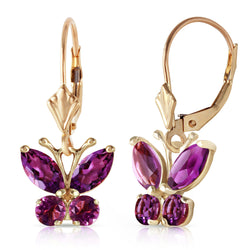 1.24 Carat 14K Solid Yellow Gold Butterfly Earrings Natural Amethyst
This item will be shipped on next business day!
These butterfly amethyst earrings are perfectly feminine with their solid gold hooks in your choice of yellow gold, white gold or rose gold. The shape of the setting is formed into a butterfly shape, and each of the four amethyst stones make up the butterfly. They are long ovals and circles, which create a lovely appearance when dangling from the ears. The total length of the earrings is just under one inch, which makes them ideal for wearing to the office or out on a date. Amethyst is a healing stone and the birthstone of February babies. These earrings a great gift for a February birthday.