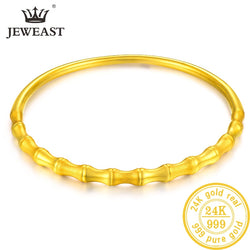 The Radiant Aura 24K Pure Gold Elegance Bracelet
62MM about 7g
Delivery may take 2 to 4 weeks

to ensure precision and quality. Combining competitive pricing and complementary shipping please be aware that a significant portion of our jewelry is made-to-order.
Introducing our exquisite LKL 24K Pure Gold Real 999 Solid Gold Trendy Classic Bracelet a timeless piece that exudes elegance and sophistication. Crafted with the utmost precision and care this bracelet is a true symbol of luxury.

Made from pure 24K gold this bracelet showcases the highest level of craftsmanship and quality. The 999 solid gold composition ensures that every inch of this piece gleams with a radiant golden hue that is unmatched. Its trendy and classic design effortlessly combines modern style with traditional elegance making it a versatile accessory that can be worn for any occasion.

With its comfortable fit and secure clasp this bracelet is not only a stunning piece of jewelry but also a practical and wearable accessory. Whether youre dressing up for a special event or adding a touch of sophistication to your everyday look this bracelet is the perfect choice.

Indulge yourself or surprise someone special with this exquisite LKL 24K Pure Gold Real 999 Solid Gold Trendy Classic Bracelet. It is a true investment piece that will stand the test of time and become a cherished heirloom. Order now and experience the allure of pure gold delivered right to your doorstep within 2-4 weeks.

Elevate your style and make a statement with this captivating piece of jewelry. Dont miss out on owning a piece of pure luxury.