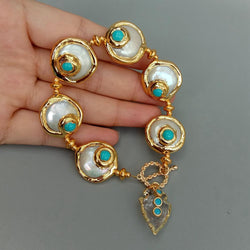 Radiant Essence: Natural Quartz Arrowhead Charm Pearl Crystal Bracelet
Combining competitive pricing and complementary shipping please be aware that a significant portion of our jewelry is made-to-order. Delivery may take 2 to 4 weeks to ensure precision and quality.
Introducing the YYGEM Natural White Quartz Arrowhead Charm Freshwater Cultured White Coin Pearl Blue Crystal Bracelet - a stunning piece that exudes elegance and natural beauty.

Crafted with care and attention to detail this bracelet is a true embodiment of grace. The centerpiece of this exquisite piece is the natural white quartz arrowhead charm which adds a touch of mystique and allure. Its unique shape and texture make it a captivating focal point that effortlessly draws attention.

Complementing the quartz charm are the freshwater cultured white coin pearls. These pearls are known for their lustrous shine and smooth surface adding a touch of sophistication to the overall design. Each pearl is carefully selected and strung together creating a harmonious blend of timeless beauty.

To enhance the bracelets allure delicate blue crystals are interspersed throughout the design. These crystals add a subtle sparkle and a pop of color elevating the bracelets overall aesthetic.

With a delivery time of 2-4 weeks this bracelet is worth the wait. It is a testament to the craftsmanship and attention to detail that goes into creating each piece. Whether youre dressing up for a special occasion or adding a touch of elegance to your everyday look this bracelet is sure to make a statement.

Embrace the beauty of nature and indulge in the allure of this YYGEM bracelet. With its natural white quartz arrowhead charm freshwater cultured white coin pearls and delicate blue crystals it is a true work of art that will leave you feeling radiant and confident. Order yours today and experience the captivating allure firsthand.